Hedgehog Class
Meet the Team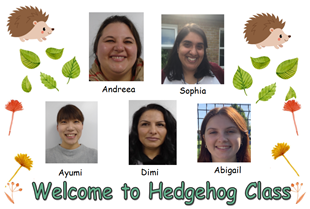 ---
Introduction
We are an inquisitive and energetic class. We learn through play and by socialising with friends & adults. We love to be creative and to explore the world through our senses. Our activities are based around our individual interests and targets. Most days you will find us singing, dancing, getting messy & having fun, because this is how we learn best.
---
Supporting Our Students to Learn
Cognition and Learning
We embed the fundamentals of Maths and English through our play-based activities. Snack time, sensory stories, Attention Building, Forest School, Music, Art and Role Play are just some examples of the opportunities provided to explore number, shapes and letters. Squiggle While You Wiggle and Dough Gym are fun ways for us to develop our pre-writing skills.
Social, Emotional and Mental Health
The nurturing environment in Hedgehog Class creates a safe place for us to work on our social and emotional skills. We practise recognising and naming our emotions, make choices to help us to self-regulate and we work on accepting help from adults to mutually regulate when needed. We love to do Yoga, Art, Music and Dance throughout the week and to visit the Light Roomo to help with our self-regulation skills. We enjoy building relationships with our friends and we practise our social skills when taking turns, sharing and playing together in the Adventure Area, Lego Therapy and Identiplay.
Sensory, Physical and Life Skills
Sensory integration and exploration are both very important to Hedgehogs. We access sensory circuits, TacPac, sensory stories and massage regularly through the week, and we practise choosing from a variety of sensory activities to help us to meet our sensory needs. Our physical well-being is developed every day when playing in the outdoor Adventure Area, Play Skills Room, during Rebound Therapy and our much-loved swimming lessons. We learn vital life skills through playing in our home corner, touch and taste sessions and small world play. We particularly focus on independence in our self-care, learning to feed and dress ourselves.
Communication and Interaction
This is at the heart of everything we do in Hedgehog Class. We find opportunities throughout the day to practise communication with our friends and adults. We communicate our wants, needs and interests through words, gestures, Makaton signing, songs, PECS symbols and communication boards. We love to use Intensive Interaction to help us learn to enjoy comunicating and interacting with others.
---
Topic for this half-term
---
Our Timetable
---
Useful Information