Hedgehog Class
Meet the Team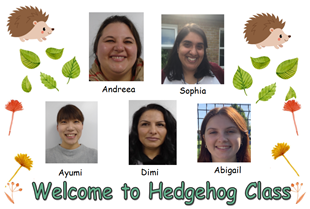 ---
Introduction
We are an inquisitive and energetic class. We learn through play and by socialising with friends & adults. We love to be creative and to explore the world through our senses. Our activities are based around our individual interests and targets. Most days you will find us singing, dancing, getting messy & having fun, because this is how we learn best.
---
Supporting Our Students to Learn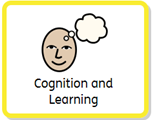 Cognition and Learning
We embed the fundamentals of Maths and English through our play-based activities. Snack time, sensory stories, Attention Building, Forest School, Music, Art and Role Play are just some examples of the opportunities provided to explore number, shapes and letters. Squiggle While You Wiggle and Dough Gym are fun ways for us to develop our pre-writing skills.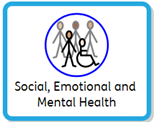 Social, Emotional and Mental Health
The nurturing environment in Hedgehog Class creates a safe place for us to work on our social and emotional skills. We practise recognising and naming our emotions, make choices to help us to self-regulate and we work on accepting help from adults to mutually regulate when needed. We love to do Yoga, Art, Music and Dance throughout the week and to visit the Light Room to help with our self-regulation skills. We enjoy building relationships with our friends and we practise our social skills when taking turns, sharing and playing together in the Adventure Area, Lego Therapy and Identiplay.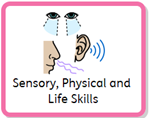 Sensory, Physical and Life Skills
Sensory integration and exploration are both very important to Hedgehogs. We access sensory circuits, TacPac, sensory stories and massage regularly through the week, and we practise choosing from a variety of sensory activities to help us to meet our sensory needs. Our physical well-being is developed every day when playing in the outdoor Adventure Area, Play Skills Room, during Rebound Therapy and our much-loved swimming lessons. We learn vital life skills through playing in our home corner, touch and taste sessions and small world play. We particularly focus on independence in our self-care, learning to feed and dress ourselves.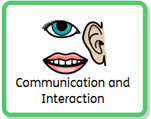 Communication and Interaction
This is at the heart of everything we do in Hedgehog Class. We find opportunities throughout the day to practise communication with our friends and adults. We communicate our wants, needs and interests through words, gestures, Makaton signing, songs, PECS symbols and communication boards. We love to use Intensive Interaction to help us learn to enjoy comunicating and interacting with others.
---
Topic for this half - term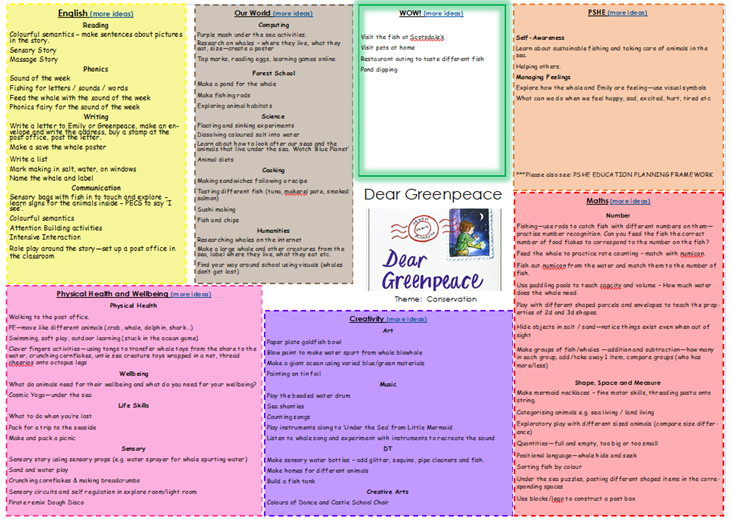 Click here for a downloadable version of this half term's topic plan
---
Our Timetable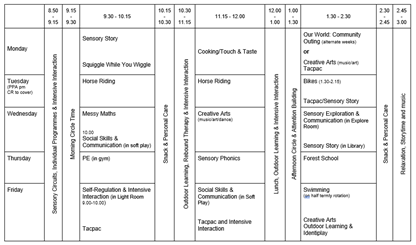 All activities in our timetable are designed to help the children in Hedgehogs class to meet their individual EHCP targets.
The activities focus on the following key areas, with many activities developing a number of these areas simultaneously:
Cognition and Learning
Social, Emotional & Mental Health
Sensory, Physical Development & Life Skills
Communication & Interaction
As well as this, in order to ensure we provide our learners with a well rounded curriculum and to create exciting, engaging learning opportunities, Creativity and an awareness of Our World feed through many of the activities planned each week.
Below is a rationale, explaining what happens in each session and why they are being used in the teaching and learning in Hedgehogs class.
Sensory circuits - each morning our students are invited to take part in a sensory circuit, which works on alerting, organising and then grounding their sensory systems to help their readiness for learning. We recognise that some students may benefit from this input at different times, so the sensory circuit is available to use outside throughout the school day.
Individual Programmes - each student is able to choose from a selection of activities, which have been designed specifically to help them meet their EHCP targets in Cognition & Learning, Social, Emotional & Mental Health, Sensory, Physical Development & Life Skills and Communication & Interaction.
Intensive Interaction - this intervention will be used at many points throughout the day and the philosophy behind it underpins much of our teaching and learning in Hedgehogs class. The approach helps to develop early communication skills through the adult 'joining' the student in communication and play. It works on developing aspects of communication including eye contact, turn taking, vocalisations and conversation, as the adult joins and follows the child's lead. This helps to develop the idea that communication and interaction with others is enjoyable and rewarding.
Morning Circle Time - allows us to practise our social skills and group communication. It follows the same format each day to allow children to begin to anticipate familiar routines in the school day. We sing a 'hello' song to each child, we have a movement break to work on gross motor skills and we complete a 'dough disco' song to strengthen coordination, muscle development in the hands and fine motor skills, whilst providing sensory input at the same time.
Snack, Lunch & Personal Care - communication, social interaction and life skills are the key focus during these times. Children are encouraged to request their preferred snack item and sit together to share meal times. During personal care, children are supported to become as independent as possible with dressing, using the toilet and washing hands.
Outdoor Learning - children's physical wellbeing is developed as they are encouraged to be active and adventurous in their play. Children are able to self-regulate their emotions and sensory needs through the use of the outdoor sensory circuit and the equipment in the adventure playground. As well as this there are many opportunities to work on communication and social skills as the children share these activities with friends and supporting adults.
Afternoon Circle - this is a chance for the class to regroup after lunch and explore & understand their emotions by choosing how they feel and communicating why this is.
Attention Building - Hedgehogs follow the Attention Autism programme to stage 2 or 3, in order to build on group attention, turn taking, communication and social interaction.
Relaxation, Storytime and Music - an opportunity for calming activities at the end of the day, focussed on a sensory massage story, music, yoga and reflecting on the achievements of each child that day.
Sensory Story - each half term, we will focus on a different story. Sensory story allows us to bring these books to life and enhance the children's understanding of them by adding sensory elements to each section of the story. By repeating these stories each week, children can fully engage with them and can begin to anticipate what will come next, or remember the words to the repeated phrases.
Squiggle Whilst You Wiggle - this fun activity uses dance, music and large movements to help children learn the skills needed in order to write. We practise forming circles, semi circles, vertical and horizontal lines whilst dancing to their favourite music and mark making in different sensory materials. This develops the fine and gross motor skills which are required for writing.
Cooking/Touch & Taste - children develop their life skills and mathematical understanding when following a simple visual recipe to weigh and measure ingredients to make pizzas, fruit salads, biscuits and other foods. In Touch and Taste, they are introduced to a range of different tastes and textures and are encouraged to explore the ingredients with all of their senses and taste them when they are ready. The emphasis is on sensory exploration, singing and having fun, helping them to enjoy experiencing a wide range of different foods.
Identiplay - social skills, group attention and communication are the main focus in this intervention, where children practice playing in parallel with an adult. Turn taking, development of vocabulary, imaginative play and enjoyment of playing alongside another person are all skills that are built upon.
Creative Arts - these sessions cover music, dance, role play/drama, collage, painting and drawing. The activities encourage communication and vocabulary development, group attention, emotional regulation and body awareness. They often have a strong sensory element. They are also used to meet the children's cognition and learning targets through, for example, number songs and through linking the activity to the story of the term.
Horse Riding, Bikes, Rebound Therapy, PE, yoga, swimming - these activities all work on the children's physical and sensory targets on their EHCP whilst, as always, providing many opportunities for communication, social skills and emotional regulation.
Tacpac - a sensory communication intervention which combines the senses of touch, sound and sight. Children listen to a number of specially composed pieces of music, as they see and feel different textured materials on their bodies, delivered rhythmically in time to the music. This helps with the children's sensory alignment and body awareness.
Messy Maths - the main focus of this session is to work on the children's cognition and learning targets, by developing their understanding of number, shape and measure. This is done through sensory play and active learning and is specific to each individual child's EHCP target.
Specialist Rooms - the explore room, light room and soft play room allow opportunities for self regulation of emotions, sensory integration, physical development and communication. We often use time in these rooms to communicate by choosing particular pieces of equipment, play group games, practise intensive interaction and sing songs or tell stories.
Social Games - an opportunity for us to work on our social skills and interactions with peers and adults. The children communicate with one another to make choices about games, take turns, share toys, express likes/dislikes and enjoy playing socially in a group. These games are supported by adults who will also provide games that will help to work on the children's cognition and learning targets (e.g. number puzzles, hide and seek using positional language, rhyming pairs)
Forest School - outdoor learning following the children's lead and interest, which provides many opportunities to work on individual EHCP targets. Physical wellbeing is strengthened through climbing, swinging, balancing and jumping. The sessions encourage problem solving, risk taking, teamwork and imaginative play. Children practise life skills such as building shelters, cooking on the campfire (or in the mud kitchen) and developing their independence. Cognition and learning is developed by matching the theme of the session to the termly story, and an awareness of the environment and our world comes through engaging positively with nature. This all gives rise to numerous opportunities for communication and interaction with adults and peers.
Lego Therapy - social interaction, turn-taking skills, sharing, collaborative problem-solving and motor skills are all enhanced during this small group intervention.
Clever Fingers - develops children's fine motor skills through motivating and highly engaging activities which use items such as pegs, scissors, beads, string, tongs and pom poms.

---
Useful Information