Students' artwork makes a splash on Senate House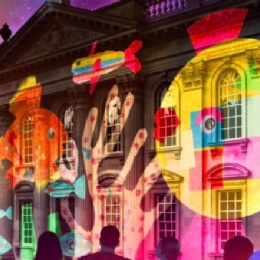 Last Friday, our students' artwork was projected onto Cambridge University's Senate House as part of the Cambridge Music Festival.
Here's some more information from Cambridge Music Festival:
"As darkness falls, the lions begin to prowl!
The Neo-classical facade of the university's Senate House will be illuminated with stunning images of creatures large and small as part of our sound and light spectacular, produced by the award-winning creative agency, Novak. The Kanneh-Mason family's award-winning recording of Saint-Saens' Carnival of the Animals provides the soundtrack for an impressive projection created using artwork produced by pupils from Castle, Arbury, St Matthews and Galfrid primary schools during workshops led by community artist Hilary Cox-Condron.
Gather to watch the lions, the fish and the swan as they are brought to life through digital animation."
Congratulations to all the students whose artwork was featured - it was a spectacular night out!