Careers Information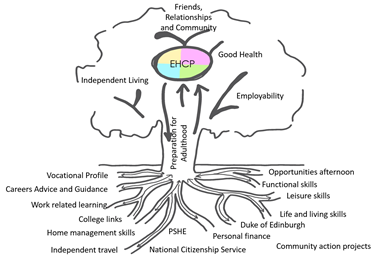 We have a varied, personalised and vibrant Careers Programme that links to the Preparation for Adult agenda. The diagram above gives a summary of the activities that support this.
The aims of our Careers Programme are to:
Build a sustainable and adaptable careers strategy based on Preparation for Adulthood agenda, that is regularly reviewed and updated.
Develop holistic provision that links to individual needs, interests, skills and learning pathways, giving pupils opportunities to try and experience a range new and exciting activities that link to post school provision.
Develop pupils' communication and social skills so that they have confidence to access services and provision post school.
To make sure pupils and their families have access to good, relevant and timely information so that they can make informed choices about their route post school.
Further details about how we implement and measure the impact of this can be found by clicking on the policy below.
Castle School Careers lead is Anne Haberfield: ahaberfield@castle.cambs.sch.uk
Employer engagement.
We have developed and maintained a number of partnerships with local companies and charities, who support us with work experience placements and pathways into work or volunteering. All of these provide literature about their setting and attend our annual Opportunity afternoon. If you are an employer or charity that is interested in supporting our pupils please contact Sarah Parish: sparish@castle.cambs.sch.uk for further details.
Further support
Additional Information, advice and guidance on education, training and employment for students at Castle School is provided by the Additional Needs Pathway Adviser. Angie Vickery is attached to our school, you can contact her via angie.vickery@cambridgeshire.gov.uk
She is available for advice and guidance, supports sessions in school and attends Annual Reviews. She will work with young people through to their 25th birthday.
There are also two useful documents that give details of opportunities available to students when they leave Castle School. They can be found using the links below
Moving on https://www.cambridgeshire.gov.uk/asset-library/Moving-On-Booklet.pdf
Moving into work https://www.cambridgeshire.gov.uk/asset-library/moving-on-into-work-guide.pdf