Conwy class
Meet the team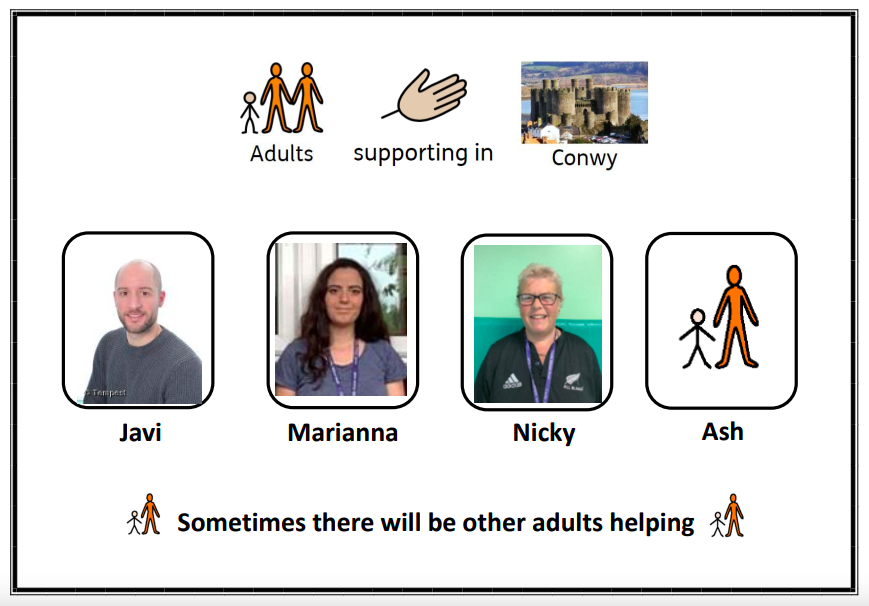 How we learn

In Maths and English sessions, we practice our key maths and English skills based around half-termly story. These sessions also link to our PSHE themes and life skills, to give us the skills we need for the future.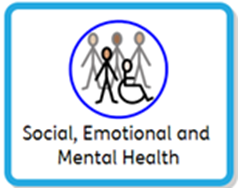 During morning circle time, we come together as a class to share our feelings and say hello singing the "hello song". This involves the pupils choosing a friend to ask how they feel using a communication board or spoken words.

After hello song and feelings, we have our hello massage story which gets us ready for the last activity where we take the play dough out and we choose a dough disco song to strengthen our fine motor skills and provide some sensory input.

During the day, the students also have opportunities to develop their social skills such as communicating with others, turn taking activities, working together and interaction. These opportunities maybe provided within specific interventions such as playing games, music, messy play or accessing the specialist rooms. We also provide students time to do what keeps them calm and relaxed and they do so during sensory exploration time.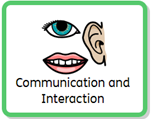 Communication and interaction begin as soon as the students start their day. Many opportunities are set up throughout the school day to ensure that the students are working on their bespoke communication and interaction targets and some sessions have a communication and interaction focus.  
We use the attention building intervention to work on our speaking, listening and interaction skills.
This program uses practical approaches to increase and sustain attention, focus, and communication and group learning and interaction skills. These sessions support the children in reaching their cognition and learning targets as well as communication and interaction. 
We have access to specialist rooms to improve our social and communication skills throughout play and interaction. We learn how to take turns, ask for what we want and motivate ourselves.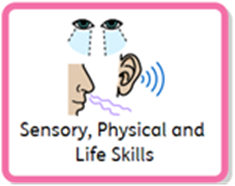 Each morning our students are invited to take part in a sensory circuit, which works on alerting, organising and then grounding their sensory systems to help their readiness for learning. We recognise that some students may benefit from this input at different times, so the sensory circuit is available to use outside throughout the school day.
We have physical sessions in the gym once a week and spread throughout the week we have bike session, dancing, and swimming.
We use TACPAC to create a structured half hour of sensory communication between two people. The focus of our TACPAC sessions is to support the pupil's targets such as listening and attention, sequencing and communicating.
During cooking children develop their life skills and mathematical understanding when following a simple visual recipe to weigh and measure ingredients to make pizzas, fruit salads, biscuits, and other foods. We also practise our skills on how to peel, chop and mix different food and ingredients. We also provide touch and taste sessions for those who are initiating into cooking and food handling.
Our topic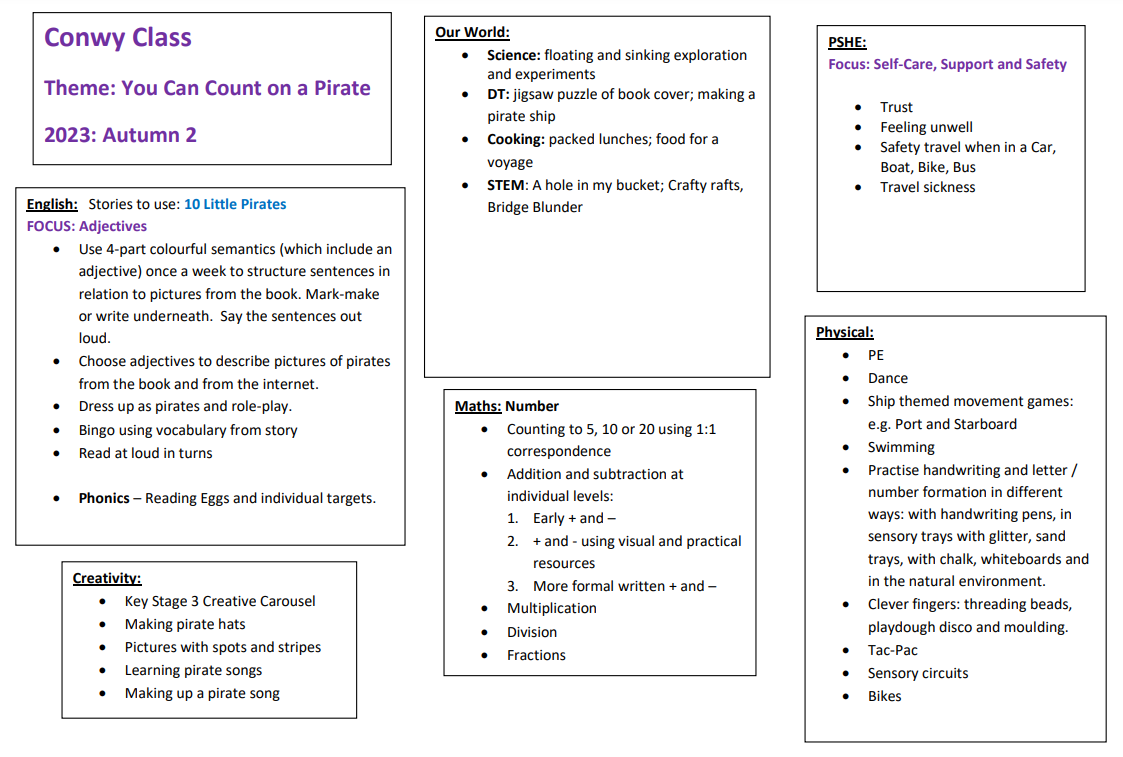 Timetabled activities
When is this the main focus?

How is this delivered in your class?

Individual Programmes /Key skills

Morning work trays

During morning work trays, each student has individual tasks to complete which link to their EHCP targets. These tasks are mainly focused on maths, English and motor skills activities depending on the academic level and individual needs.

Reading and Phonics

Daily

Library

Circle time

English

Maths

Cross-Curricular

See above

Cross-Curricular

Attention Building

Circle time

Specialist rooms

See above

Circle time

Cross-curricular

Specialist rooms

Key skills

Break time

Lunch time

Class routines

Bikes

Dancing

Cooking

TacPac

See above

Creativity

Art

Creativity carousel

Messy play

Our World

STEM

Community outings

Forest School

Preparation for Adulthood

PSHE

Café

Our World