Pembroke class
Meet the team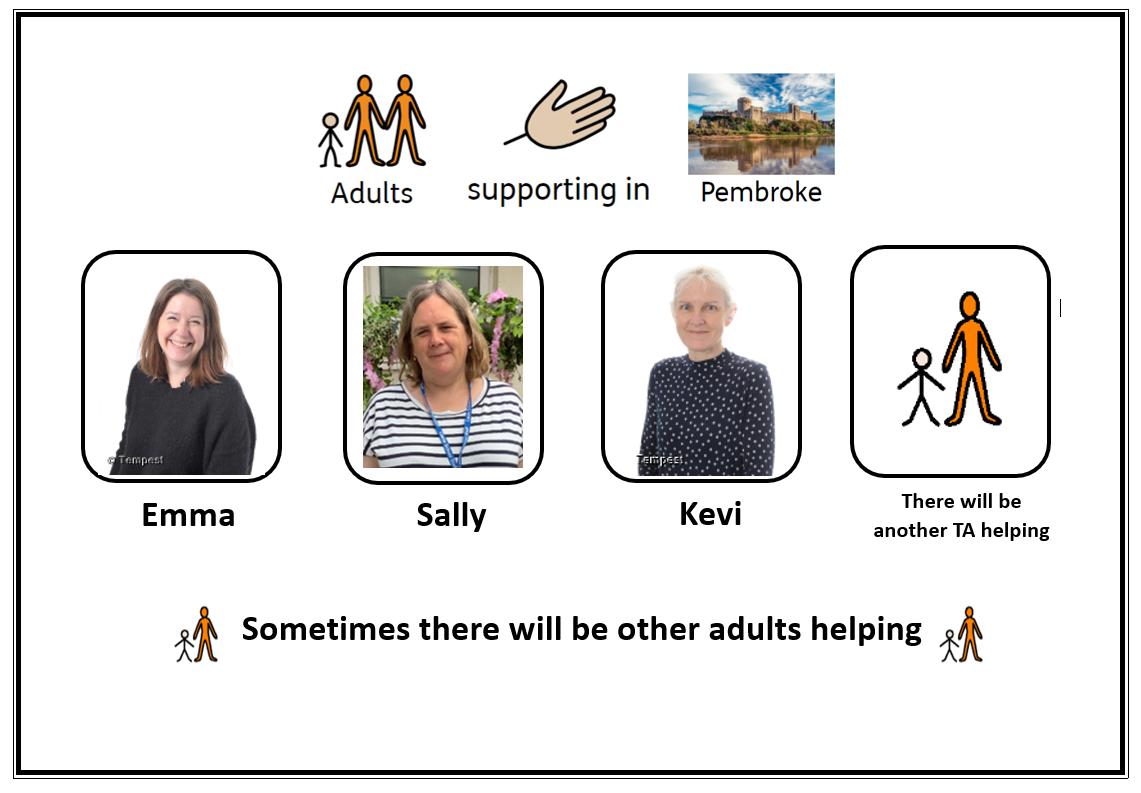 Introduction
Pembroke class are pre – formal learners. Our classroom is lively and full of fun as we learn together through a range of different activities and experiences. Our lessons are sensory, and communication based which helps meet the needs of our children with multisensory disabilities.
Supporting our students to learn
Cognition and Learning Our teaching is based around a different book each term. The pupils in our class benefit from repetition of familiar activities as they work on building attention and anticipation. Cognition is taught using stories and associated props, whether it be a sensory story, maths in story, or massage story. These subjects are also intertwined throughout sessions instead of a focused session. This allows our pupils to generalise the skills they are learning.
Social, Emotional and Mental Health Some children have an opportunity to complete a series of work trays focusing on key skills that develop their individual outcomes. Others access sensory circuits to prepare them for learning or complete a Clever Fingers station to improve their fine motor skills. We also have lots of sensory breaks built into the day and opportunities for children to meet their sensory needs. Many of the children in the class have individualise physiotherapy programme which they follow each day.
Sensory, Physical and Life Skills For learning to take place, our learners must be comfortable, relaxed and 'ready to learn'. Positional changes happen frequently, with a minimum of two positional changes to be built into the timetable each day. This is made more fun by using a daily Sensology session to frame the session with fun music and stretching and moving positions. Our pupils also use their standing frames, walkers, bikes and Acheever workstations where appropriate through the day. Sensology is an educational approach emphasising sensory stimulation. It covers the five basic senses (see, hear, touch, smell, taste) but also the movement- related sensory systems: the vestibular (balance, head movements and gravity) and the proprioceptive (body positions, body mapping and planning movements). When in different positions, pupils carry out bespoke lessons which will help them to develop core skills. Pupils also work on using their vision throughout all activities, to reinforce visual skills they might find difficult. Pupils also work on using their vision throughout all activities, to reinforce visual skills they might find difficult.
Communication and Interaction The pupils in Pembroke class all have their own unique communication style so our sessions are designed around each of the individual children and their needs. When planning communication sessions, we look for exciting and motivating activities that will inspire the children to engage, express themselves, make choices and begin to use functional communication. Communication is an intrinsic part of everything we do so it is also built into all our other lessons and experiences, all our interactions and learning flows from Intensive Interaction. We also use On-body signing, Object Cues and for some, the use of photographs (a pre-cursor to symbols). Other interventions such as Touch and Groove, Resonance Board, Soundbeam and the use of Call and Response Stories help us create a fun and dynamic timetable.
This half term's topic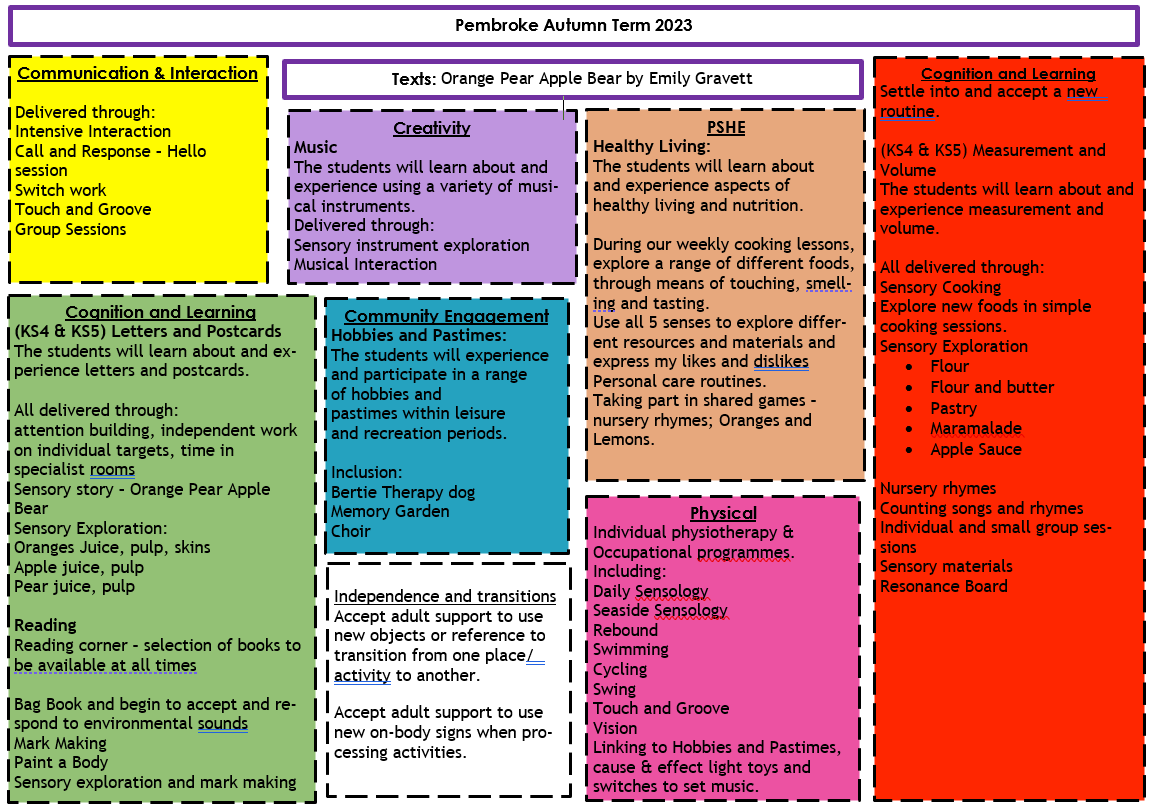 Timetable
Timetables can now be found on Arbor. If you need a hard copy, please ask your young person's teacher.
Call and Response (covering the Core Areas of Sensory & Cognitive Skills, Communication, Personal & Social Skills)
Community Awareness and Inclusion Activities (covering the Core Areas of Sensory & Cognitive Skills, Communication, Personal & Social Skills)
Switch Skills (covering the Core Areas of Sensory & Cognitive Skills, Communication, Physical Development)
Sensory stories (covering the Core Areas of Sensory & Cognitive Skills, Communication, Physical Development)
Sensology (covering the Core Areas of Sensory & Cognitive Skills, Communication, Physical Development, Personal & Social Skills)
Sensory Cooking (covering the Core Areas of Sensory & Cognitive Skills, Physical Development)
Music and Music Therapy (covering the Core Areas of Sensory & Cognitive Skills, Communication, Physical Development, Personal & Social Skills)
Movement and Physiotherapy; Swimming and Hydrotherapy (covering the Core Areas of Sensory & Cognitive Skills, Physical Development)
Positive Looking (covering the Core Areas of Sensory & Cognitive Skills, Communication, Physical Development)
Positional Changes (covering the Core Areas of Communication, Physical Development, Personal & Social Skills)