Wren class
Meet the Team
Sarah & Dawn - photo coming soon!
Introduction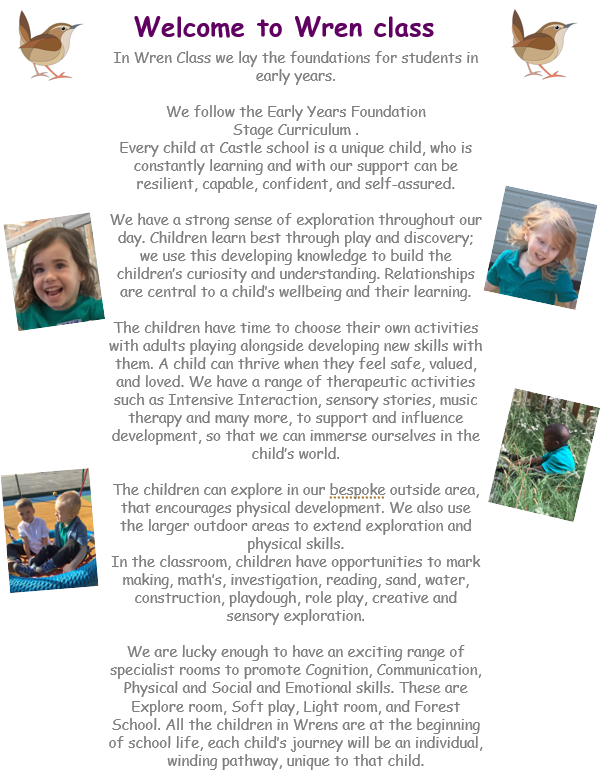 Supporting Our Students to Learn




Topic for this half-term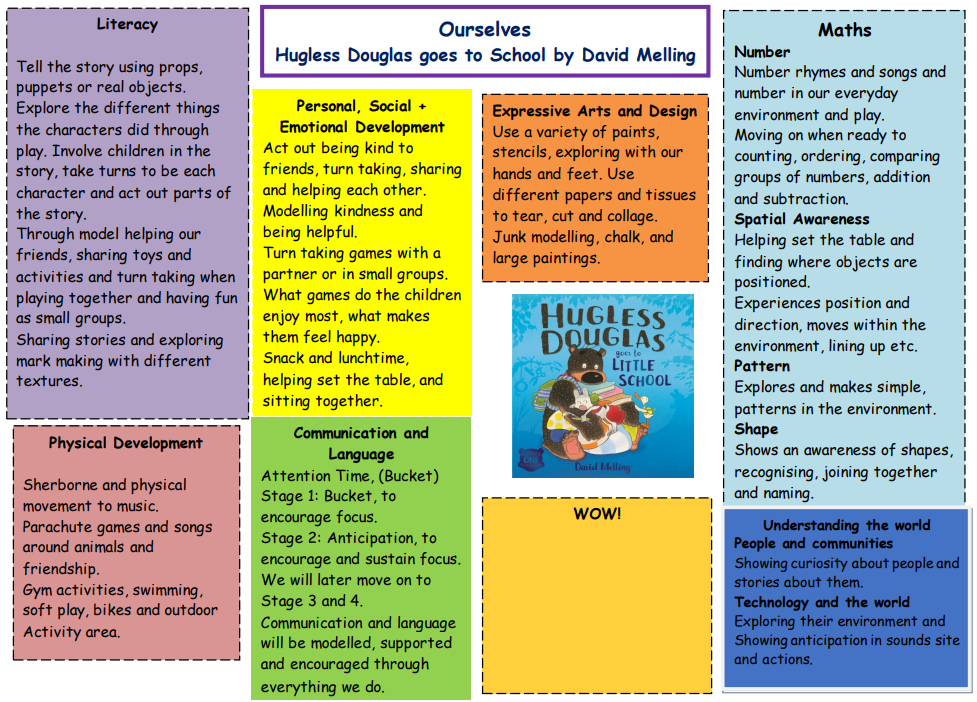 | | | |
| --- | --- | --- |
| Subject | When is this the main focus? | How is this delivered in your class? |
| Individual Programmes /Key skills | First thing in the morning. | Through exploration, modelling, Intensive Interaction, Role play and singing. |
| Reading and Phonics | Early afternoon | Wrens are practicing pre-phonic awareness at stage 1, and some children are ready for beginning of phase 2. We enjoy sensory stories in a group or 1.1 and are developing our awareness and interest in books. We have a daily session of Reading in a calm and relaxed atmosphere where the children are encouraged to listen and join in. |
| | Throughout the day | Early literacy & numeracy concepts are introduced and explored through play-based activities throughout the day. We support all children to lay a strong mathematical foundation through play. In Wrens class this involves songs, stories, games, practical activities, and play. We encourage exploration and enjoyment. Early literacy skills are based on children's early skills from gesture, babbling, communication, talking and singing. Children in Wrens build upon their early mark making skills and developing writing using both gross and fine motor skills. We enjoy sensory stories, songs and rhymes in both group time and important and special 1:1 time. We develop decoding and reading through indoor and outdoor experiences. |
| | Throughout the day | From the moment the children arrive at school they are immersed in a language rich environment. Communication and Language lay a foundation for learning and development, it is closely intertwined with physical, social, and emotional experiences. In Wrens class communication is at the heart of everything we do from the very start to end of the day, we believe every minute matters. Children are offered a variety of communication aids and methods to help their expressive language we use Makaton signs alongside verbal language and symbols. |
| | Snack and Lunch, play times, Soft Play, and Games. | In Wrens class we believe a child will thrive when they feel safe, valued, and loved. Personal and Social and Emotional Development is fundamental to all aspects of lifelong development and learning and is key to children's well-being and resilience. In Wrens we meet the needs of the individual so that the children can become more independent and form important friendships with both staff and peers. Extending these skills into the wider community. |
| | Sensory exploration, Outdoor Learning, Forest School, and PE | Physical Development underpins all areas of the child's learning and development. In Wrens class we provide an environment which enables extensive physical experiences. Health, wellbeing, and self-care are integral to physical development. Each child's development relies on a whole-body experience, fine and gross motor control must happen together in an integrated way. |
| Creativity | Sensory Exploration | Wrens demonstrate creativity in many areas of their play, this is supported with a range of resources outside and in. Through using different media, textures and colours we explore mark making, exploring and enjoying our creativity, as a group and individually. |
| Our World | Learning about ourselves, our families, our class, school and then local community | The Wrens are developing a sense of themselves and their families. Through school they are experiencing what it is like to be part of a wider community. Wrens will meet a variety of people over the year and experiencing how these people are part of our wider lives. Later in the year we will also be going out on the bus and visiting new places. |
| Preparation for Adulthood | Skills based, PC, meal times, dressing and undressing | Developing our life skills and independence prepares us for adulthood. |
---
Our Timetable
Timetables can now be found on Arbor. If you need a hard copy, please ask your child's class teacher.
Useful Information