Carisbrooke Class
Meet the Team
---
Introduction
In Carisbrooke class Core subjects are taught through the use of a story and props. These subjects are intertwined throughout sessions instead of a focused session. It allows the children to generalise the skills they are learning and develop their ability to apply them to real life situations. Activities are built around, rhythm and rhyme, sensory play, and acting (dressing up as characters). Through these the pupils are developing their attention and listening skills. We are also involved in many interventions in Carisbrooke class, and these are all tailored to meet every child's individual developmental needs and EHCP targets such as OT, SALT and physio programmes. We love to learn!
---
Supporting Our Students to Learn
Cognition and Learning
Bucket time! A programme designed on the principles of 'Attention Autism' which uses practical approaches to increase and sustain attention, focus, and communication and group learning and interaction skills. We love bucket (Attention Building) time. Being able to hold and share attention is vital. We deliver the Attention Building programme daily to help the children to develop these skills. Our focus for our pupils in Carisbrooke class in all of these sessions is to develop the pupils listening and attention skills which also works alongside their communication targets.
Social, Emotional and Mental Health
These sessions focus on the pupil's social skills such as communicating with others, turn taking, working together, interaction. These sessions give the pupils the opportunity to complete interventions such as Identiplay.
Sensory, Physical and Life Skills
Opportunities for independent movement for grounding and exercise such as sensory circuits. Intervention sessions are set up to focus on the pupils completing programmes such as Clever fingers, rebound, OT programmes and physio this ensures that we are using interventions that will support the pupils to achieve their EHCP targets. Every week we have a P.E, forest school, rebound (daily) and swimming sessions.
Communication and Interaction
Communication and interaction begin as soon as the pupils start their day. Many opportunities are set up throughout the school day to ensure that the pupils are working on their communication and interaction targets and some session have a communication and interaction focus. In Carisbrooke class we use lots of AAC. This includes Makaton, Colourful Semantics, photographs, and PECS.
How our team supports our students
The pupils have a whole class visual timetable to prepare them for their day ahead and this is also displayed on the smart board throughout the day. All pupils in Carisbrooke class have an individual all about me sheet which can be found in our class folder and a pupil portrait can be found on the back of our classroom door. Throughout the day we are supporting our pupils to self-regulate or develop their own self-regulation skills. This may involve access to activities that will ensure that they have sensory breaks throughout the day. This may be access to sensory circuits or jumping on the trampette and/or sensory regulating objects such as brushes, twiddle toys, tactile materials, and resistance bands.
---
Topic for this half-term
---
Our Timetable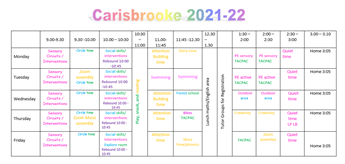 ---
Useful Information