Trinity Class
Meet the team
---
Introduction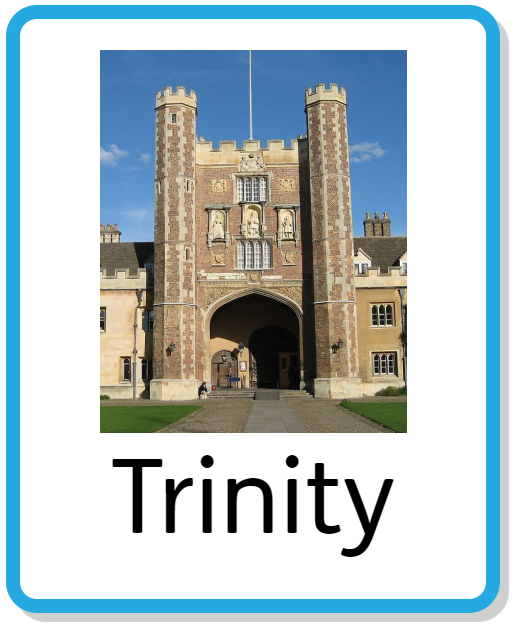 In Trinity class we work on foundational communication and interaction skills, social skills and emotional regulation, while preparing students to enter sixth form and adulthood. We develop independence as much as possible, and our timetable is structured to encourage students to develop their own voices and 'sense of self'. We have a short, focused academic session of maths or English every day, with the rest of the day structured around communication opportunities, physical and sensory integration, and practical learning.
---
Supporting our students to learn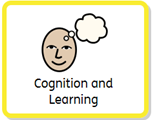 In Trinity class we are semi-formal learners, which means we have some subject-specific learning and lots of cross-curricular, holistic learning. We have a targeted English or maths session every day in small groups, and we work on individual targeted English and maths tasks in our morning work trays. Our English and maths input takes place in short, focused bursts, with lots of over-learning, repetition, and practice to generalise our skills in different contexts. Around half of us are working at the early Castle gemstone levels, and the other half are working within the Castle rainbow levels.
Our curriculum is centred around a story, which provides a theme and context for our maths and English sessions. We also immerse ourselves in our story through our attention building sessions. These sessions, which are based on the Attention Autism intervention, help us "learn how to learn" by developing our attention, listening and communication skills.
Throughout the day, we encourage cognitive development by promoting independent problem-solving, encouraging students to work out what equipment and resources they need. We celebrate students' work as a group and encourage students to take responsibility for their own learning by communicating to adults when they need help.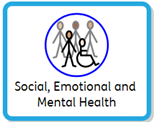 Our day is structured around supporting students to recognise and regulate their emotions so that they are ready to learn and interact. Many of the students in Trinity need support with emotional regulation, so you will see us supporting students to use a wide variety of strategies and transactional support - visual support, sensory regulation strategies and verbal strategies. We aim to help students build independence when regulating their emotions, so that they can identify when they are feeling a strong emotion and choose an appropriate and safe method of regulation as independently as possible.
We support students to build trusting relationships with adults and peers, and to negotiate and problem-solve conflict. Many of our students need support to initiate interaction with others, and some of us are working on developing our play skills in safe and appropriate ways. Our day includes plenty of time for students to access their own individual interests and methods of sensory regulation, and incorporates many opportunities for students to make their own choices, developing a sense of personal identity and voice. We also work on and model understanding and respecting other people's emotions and choices.
We encourage and develop independence with self-care, personal hygeine, dressing and eating.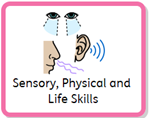 All the students in Trinity have varied and specific sensory integration needs. If you come in and visit us, you will see our students being supported to meet these needs throughout the day. Many of our students are sensory-seeking in some way: this means they seek specific sensory inputs (such as particular shapes, sounds, physical sensations and textures) to help them stay calm and happy. Some are also sensory-avoiding - this means they will find certain types of sensory input (loud noises, certain textures, certain kinds of physical contact) difficult or distressing. Balancing these needs, and helping students to access what they need to self-regulate as independently as possible, is a key focus in our class, and our day is structured to provide plenty of time for our students to access self-regulation so that they are ready to learn. We also offer structured activities to help students' sensory integration, such as self-regulation games, music and movement, massage stories, and mindfulness time at the end of the day. We also have weekly cycling and yoga sessions and fortnightly swimming to promote gross motor skills and fitness.
We focus heavily on developing fine motor skills, through a range of targeted interventions such as Clever Fingers activities, the Playdough Disco intervention, and the Squiggle While You Wiggle early writing intervention. These are designed to develop dexterity to lay the foundations for handwriting, and to enable self-care tasks such as dressing, fastening clothes, and preparing food and drink safely.
and we support them with their sensory integration throughout the day using sensory circuits, fine motor skills activities, and sensory breaks. We work on our fine motor skills every morning, and also get our bodies moving to music with movement songs and games every day. We have weekly bikes and yoga sessions and swimming every fortnight.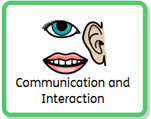 Each student in Trinity has their own unique way of communicating, and our whole day is structured around creating opportunities and motivation for communication. We are all at the SCERTS "language partner" stage, meaning that we are able to answer questions using single words or symbols, and are working on being able to combine words into sentences, communicating more spontaneously, and maintaining extended interactions.
We begin each day with a structured circle time, where students ask and answer the question "how are you?". We also end each day with a circle time, where students tell us how their day was and celebrate their achievements. In between, every activity we do is designed to provide communication opportunities. In particular, our daily attention building sessions develop listening skills and provide a structured format for the students to communicate with adults and each other.
Each day we have a focused communication session in a specialist room, where we are provided with exciting stimuli which will motivate us to communicate and play. Staff also support students to meet their communication and interaction targets throughout the day during our playtime and sensory regulation time.

---
Topic for this half-term
The Smeds and the Smoos by Julia Donaldson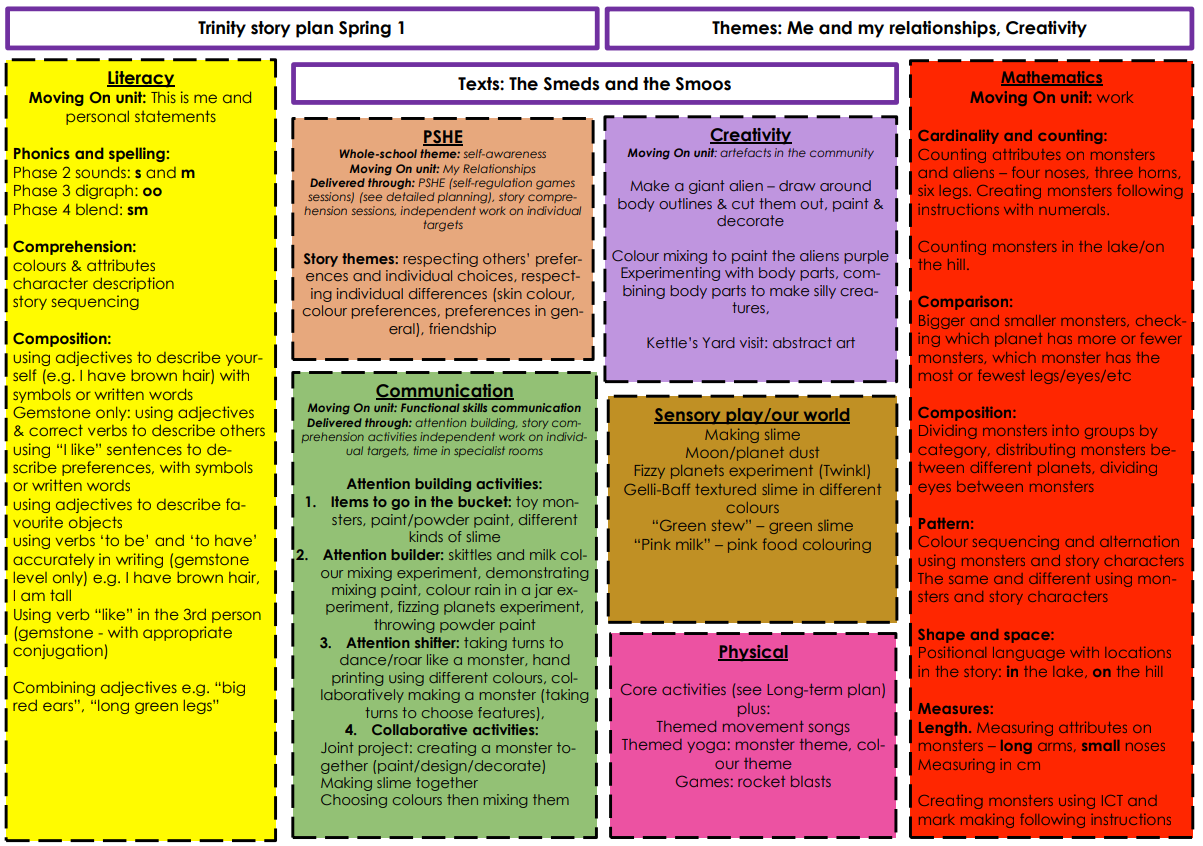 Click here for a downloadable copy.
---
Our timetable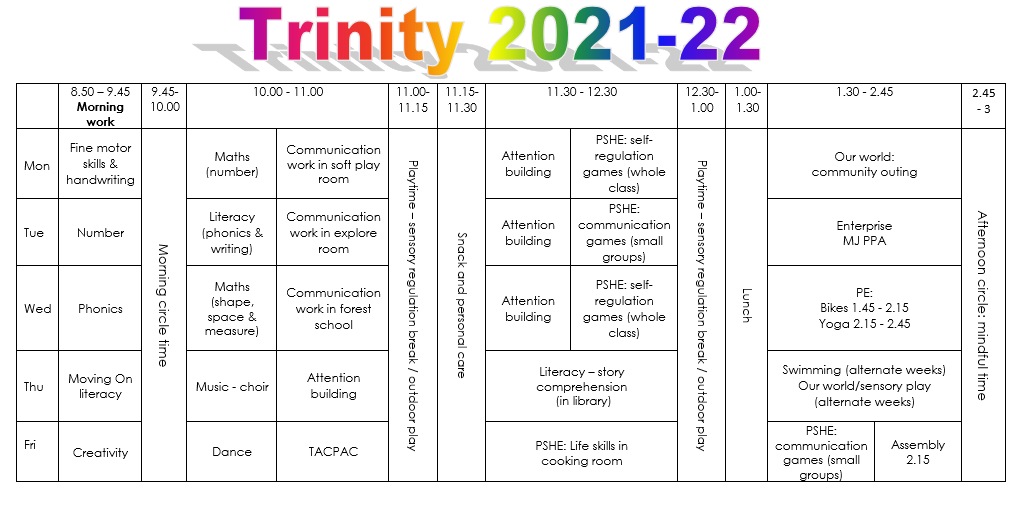 Click here for a downloadable copy.
Morning work: in this session we work on consolidating our maths and literacy skills independently, building on or over-learning work we have done earlier in the week.
Morning circle time: we come together as a class to share our feelings, practise greeting and addressing each other, and prepare ourselves to start learning.
Maths and literacy: In these sessions we practice our key maths and English skills based around our Moving On topic units and our half-termly story. These sessions also link to our PSHE themes and life skills, to give us the skills we need for the future.
Communication in specialist rooms: In these sessions we practice using our preferred communication method – PECS, communication boards, communication books, or speech. We go to specialist rooms for these sessions to provide us with exciting stimuli which will motivate us to communicate and play.
Attention building: We use attention building intervention to work on our speaking, listening and interaction skills. We also use this session to explore themes linked to our PSHE unit and our story. We are working towards a Moving On unit in communication.
PSHE: In PSHE we work on two themes: emotional regulation and life skills. In emotional regulation sessions, we explore our feelings, learn about how to express our feelings to others, and choose activities which make us feel happy and calm. In life skills sessions, we practice everyday skills we will need at home such as cleaning, making snacks and drinks, and following instructions. On Fridays we focus specifically on life skills in the kitchen. We are working towards a Moving On unit in PSHE.
PE: We have physical sessions spread throughout the week, with morning exercise and movement songs every day. On Wednesday afternoons we have a bike session followed by yoga. We have swimming sessions every other Thursday.
Creativity: We have a creativity session once a week, where we work towards a Moving On unit in creativity by exploring an art or music topic.
Enterprise: In this session we will be making items to sell in the school shop! We will practise making things, following instructions, and being in a work environment.
Personal development: In this session we work on individual projects based on our interests, such as making a scrapbook or a collection of items, and work towards our Moving On unites.
Afternoon circle: in afternoon circle time we share what we have done during the day and celebrate our achievements by choosing a "star of the day". We then have an end of the day massage story and some mindfulness and relaxation time to wind down before we go home.
Useful information
TACPAC session 1:
Spring term symbol calendar: