Curriculum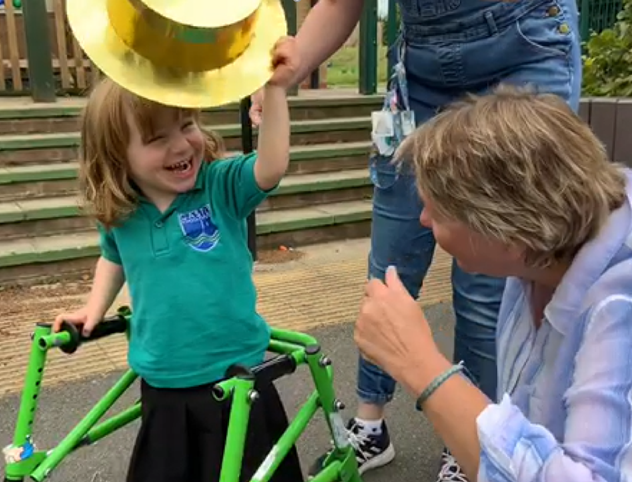 How we organise learning
Our curriculum aims to make the child's learning stimulating, creative, fun and successful whilst setting high expectations for every child. It is delivered through high quality teaching based on sound knowledge and understanding of each child's needs. This will mean shaping teaching around the way different pupils learn and taking care to nurture the unique talents of every pupil. We have developed a coherent curriculum based on a range of compelling learning experiences, which excite and inspire our learners. We aim to develop in each pupil aspirations to succeed and achieve their best, while providing a foundation for lifelong learning. We believe that children learn best when they are happy and secure, so we strive to foster fun and an enjoyment of learning.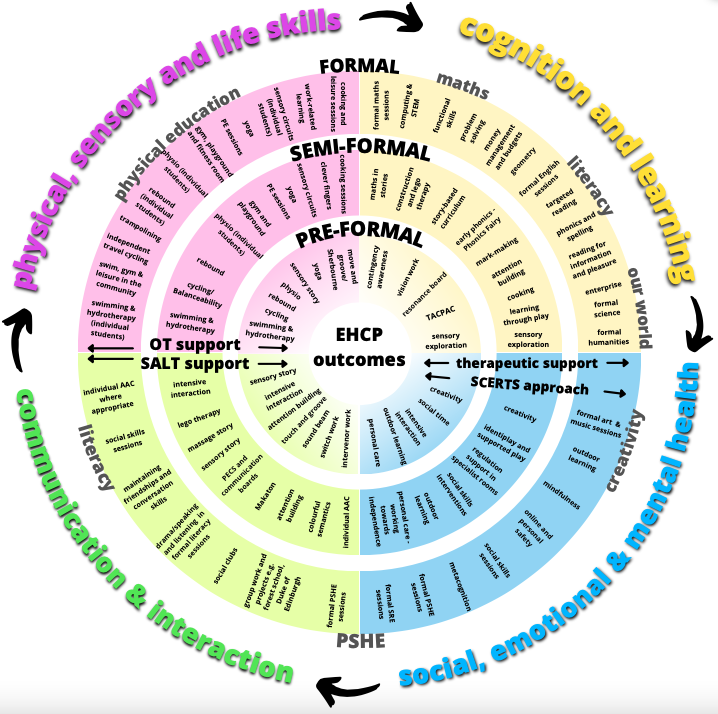 Click here to download our curriculum map
Click here to see our therapeutic school presentation
Click here to see our long term planning
Learning approaches
The curriculum experiences offered at Castle school are based on National Curriculum principles adapted to individual need. Our approach allows for variation in, pace, content, level and the method of presentation to ensure that learning experiences are appropriate for all children. We work closely with the Multi Agency Teams, our school based therapists and parents to develop personalised learning programmes for students. Strong emphasis is placed on the development of life and independence skills to enable pupils to become successful learners, confident individuals, responsible citizens, and be well-prepared for life after school.
Our core curriculum focuses on developing the four areas of the Education Health and Care plan. These are Cognition and Learning, Social Emotional and Mental Health, Sensory, Physical and Life Skills and Communication and Interaction. These are underpinned by our therapeutic curriculum which is further explained here.
We have identified six key areas of learning: Maths, English, PSHE, Physical, Creativity, and Our world. These are further explained here. We strongly believe in contextualised learning and taught curriculum is enhanced by a range of opportunities in and out of school.
The principles of Fundamental British Values are focused on across all curriculum areas.
The curriculum is delivered in a variety of ways
Pre-formal
For pupils who have additional sensory needs and are working in early stages of development, we have developed a curriculum model called the Explore Curriculum. This is built around pupil centred learning and supports the development of core skills through a range of curriculum experiences and specialist programmes. As the pupils move through school into Key stage 4 and 6th form they will follow the Moving On accreditation pathway.
Semi-formal
When pupils move on from very early stages of development, they will follow the semi-formal learning pathway. This curriculum is based on a range of curriculum areas, interventions and specialist programmes. It continues to offer a pupil centred approach and an opportunity to develop current skills and explore next steps in learning. This approach is based on a text which regularly changes. This encourages a contextualised and creative approach to learning. As these pupils move through school, they follow the Life and Living Skills accreditation pathway.
Formal
For our formal learners in the secondary department we offer a subject specific curriculum. These pupils are taught by some subject specialist teachers and transition to different rooms within the school. There remains a strong focus on personal development and independence skills.
As these pupils move through school, they will follow a more formal accreditation pathway which includes Entry Level and Functional skills.
Organisation of classes
Primary
In the primary department, classes are organised by age, ability level and learning style.
Pupils are taught for the majority of the time by a class teacher.
In Upper Key Stage 2, as part of the transition process into Secondary, Food Technology is taught by a specialist teacher.
Secondary
In the secondary department pupils are organised in teaching groups based on ability and learning style. Semi-formal learners are taught by a class teacher. Our more formal classes are taught by their class teacher and some subject specialists, and pupils transition between specialist rooms.
Curriculum coverage and delivery
We have developed long term planning grids which show how the curriculum is organised and delivered.
The six areas of learning each have a half-term when there is a deeper focus. During the half-term there will be key events linked to that area of learning.
For pre-formal learners, learning is based on a 6-monthly theme, such as nature. Medium term planning is completed by the class teacher and illustrates how the learning cross-references to the six areas of learning
For semi-formal learners, learning is based on a key theme such as food. We have then selected a number of texts that link to this theme.
Medium term planning is completed by class teachers and is linked to the texts they are using in their class. This illustrates how the learning will cross-reference to the six areas of learning.
For formal Learners in KS3, learning is linked to a key theme. Medium term planning is completed by subject specialists.
In Key Stage 4 and 6th form, pupils follow flexible learning programmes according to their needs and aspirations. These follow 3 main pathways but are flexible to allow for individual needs to be met.
The pathways are:
Pathway 1: Equals Moving On: for learners within Entry 1
This is a modular curriculum focusing on the following areas:
Communication, Numeracy, ICT, Science, Technology, Creativity, PSHE, Leisure and Recreation, Daily Living Skills and Work Related Learning.
Pathway 2: Life and Living Skills: for learners within Entry 1 and 2
This offers a range of units which can be selected to suit the particular needs and interests of the learner, these may focus on the following areas: Communication, Maths, ICT, PSHE, Drama, Art, Music, Work Related Learning, Home Management and Leisure
Pathway 3: Entry level and Functional Skills for learners within Entry 1 to 3 and beyond.
A range of qualifications in academic and vocational areas which may include
Functional skills English and Maths
Entry Level in a range of subject areas
GCSE Art
Young Leaders
First Aid
Aspects of Life and Living skills
These are supplemented with link courses with local colleges, a programme of work related learning, development of independent travel skills, and use of community facilities. A range of pupil groupings based on ability, age and friendship will be used to maximise learning.
Extending opportunities
We recognise that we cannot work alone in supporting the needs of each individual student. We therefore work in partnership with a range of agencies and with our local community. We believe that learning where possible should take place within context and students should have as many opportunities to explore the functionality and application of what they have learnt in real life situations.
Our curriculum provides a range of opportunities to motivate, support and teach children to develop effective learning skills. This will be enhanced opportunities to learn and consolidate skills outside the classroom. We have extensive school grounds with areas linked to the curriculum. Regular visits to places of interest and expertise from a wide range of professionals are integrated into the schemes of work.
Additional opportunities to explore themes in greater depth will be covered in half-termly themes that link to the six areas of learning. These will include celebration events, visits and visitors.
An extensive range of lunchtime and after-school clubs enhance the development of personal and social skills and raise the self-esteem of pupils.
Residential opportunities are provided throughout the school.
Developing experiences linked to Nationally recognised schemes such as, Young Enterprise, Duke of Edinburgh, National Citizenship Service and the Arts award also enrich and extend the learning opportunities for Pupils as they progress through the school.
Developing communication skills
The development and use of communication and language are at the heart of our curriculum based on the principles of SCERTS. Augmentative and alternative forms of communication such as signing or visual strategies are used to supplement enhance and reinforce learning.
Proven strategies and interventions are also interwoven within the curriculum, and used to formulate individual learning plans and timetables.
The multidisciplinary team and a variety of outside agencies are involved in developing a "team around the child" and ensuring that all aspects of personal development are met.
We provide an environment that enables us to offer a wide range of multi-sensory activities, both indoors and outdoors, that encourage the pupils to explore, develop their curiosity and take risks which will help them make sense of the world.
We have a particular focus on developing personal, social and emotional skills as this gives the children the best opportunity for success in all other areas of learning. A programme of social and life skills is delivered across the curriculum. Emotional literacy will be used to supplement and support the curriculum, enabling pupils to develop skills of self awareness which will support them in making and maintaining positive relationships.
Spiritual, Moral, Social and Cultural
All subjects provide opportunities to promote SMSC. A significant contribution is also made by school ethos and effective relationships throughout the school. Explicit opportunities to promote pupils' development in these areas are provided in Religious Education which covered via the area of Our World, PSHE, PE, collective worship, Thought for the Week, School Council and other curriculum and extra-curricular activities.
Curriculum development and review
Curriculum delivery is under constant and rigorous review, with each member of teaching staff responsible for one of the six areas of learning. Their role includes developing schemes of work which are accessible motivating and relevant for all pupils. These are monitored regularly by the Leadership team, ensuring that they are vibrant and meet the needs of our diverse pupil population. An annual curriculum audit and Deep Dive is led by each team, which enables them to decide on priorities for strengthening their work and improve standards in their area.
Assessment, recording and reporting
Assessment is the range of activities through which we come to know about the unique abilities and achievements of our pupils. It also provides an overview of the knowledge, skills and understanding that has developed. It is the vehicle by which we can advise pupils, parents and carers of their targets and their progress towards them. It is at the heart of effective planning, teaching and personalised learning.
We recognise that assessment should be at the heart of the curriculum and that it should be continuous and multilayered.
A range of assessment techniques both formative and summative are built into curriculum delivery. Assessment for learning strategies are applied in each lesson and summative assessments are completed at the end of each unit of work.
For more details on assessing pupil progress click here.
All statutory assessments are completed at the end of Key stage 1 and 2.
Assessment for Learning
Formal learners are encouraged to be actively involved in their learning and be able to state what they are doing to improve. Semi-formal and pre-formal learners will have clearly defined programmes where teaching assistants clearly understand the next steps in learning.
Within each lesson there is an expectation that the following principles will be applied
Sharing criteria and expectations
High quality interactions
Using feedback to inform the next steps of learning
Peer and self assessment
Reflection
Using a range of evidence to inform planning