Darwin Class
Meet the team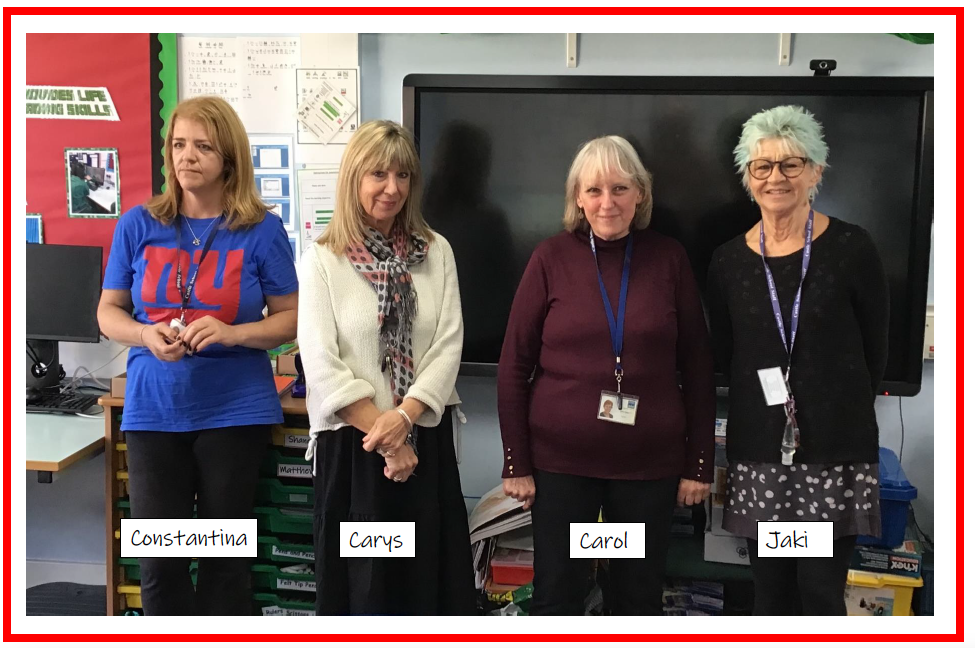 ---
Introduction
Darwin is a 6th form group made up of students from years 12 – 14. We enjoy participating in fun activities that stimulate our fine motor skills and turn taking during tutor times. We access Life Skills activities, Work Related learning, College and Leisure including gym and swim. We are focussing on working together as a team, collaborating with others, communicating with each other and adults, giving opinions and listening to others in all our activities. We learn to share and take turns through games and activities.
---
Supporting our students to learn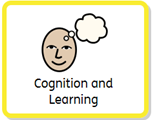 Cognition and Learning
We concentrate on the formal learning skills through core subjects of English, maths, PSHCE and STEM. We have daily individual reading and spelling practice.
We promote a love of reading by encouraging everyone to read every day. All our young people are encouraged to read with a member of staff to extend their vocabulary, reading skills and comprehension. We are independent readers, reading novels by our favourite authors. We are group readers, sharing new texts and having discussions about them. We also have spelling tests every fortnight and are working on our handwriting skills. We enjoy improving our phonic knowledge and mathematic skills using online programmes.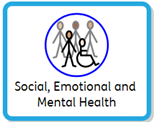 Social, emotional and mental health
We learn through social groups and the daily walk, and individual personal development targets and PSHCE.
Also, in our tutor period we have opportunities to find out about and discuss the current events around the world; and talk about what is going on in our lives. We have opportunities throughout the week to work upon our, 'Young Person's Outcomes' individually or in small groups.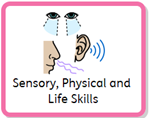 Sensory, Physical and Life Skills
Some students have daily physio programmes, and everyone takes part in a daily walk. Physical skills are taught during weekly P.E. and leisure. Life skills are taught through College links/Work related learning/enterprise/D of E/and life skills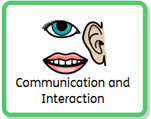 Communication and interaction
Communication and interaction happen throughout the day, but there is more focus on individual targets during social groups, daily walk, break and lunch times and leisure activities.
---
Topics for this half-term
Click here for a downloadable copy.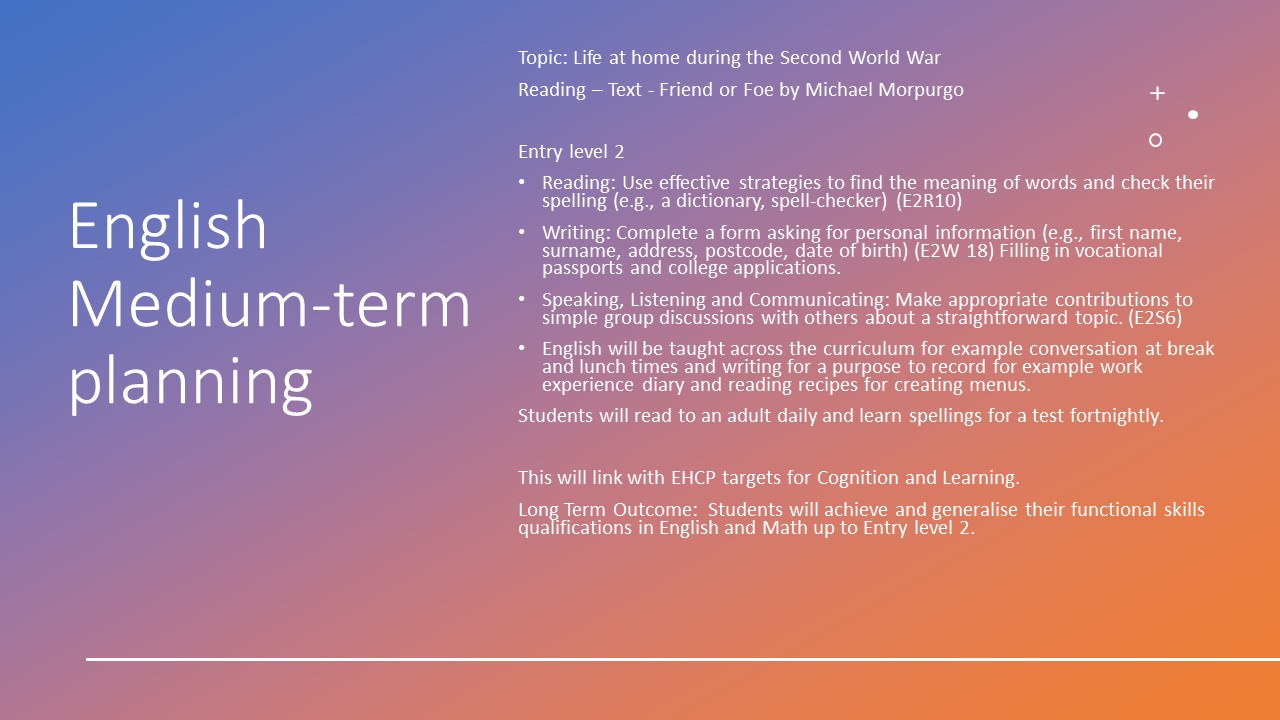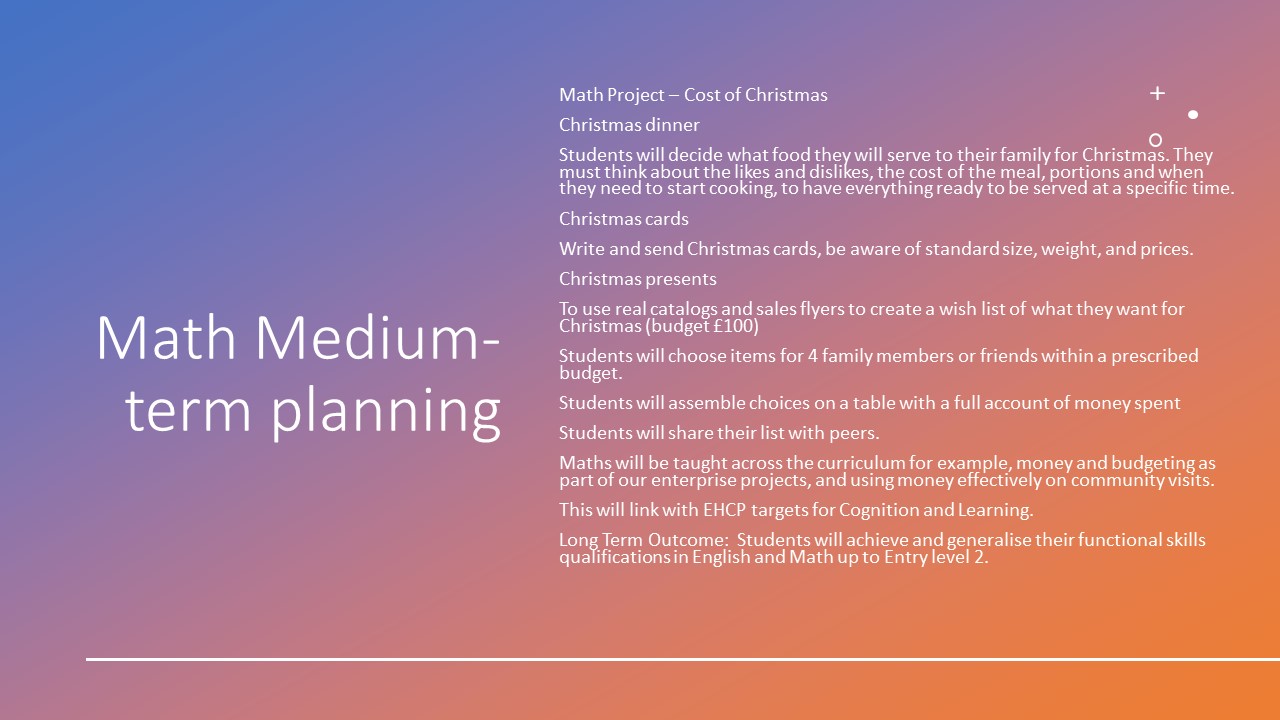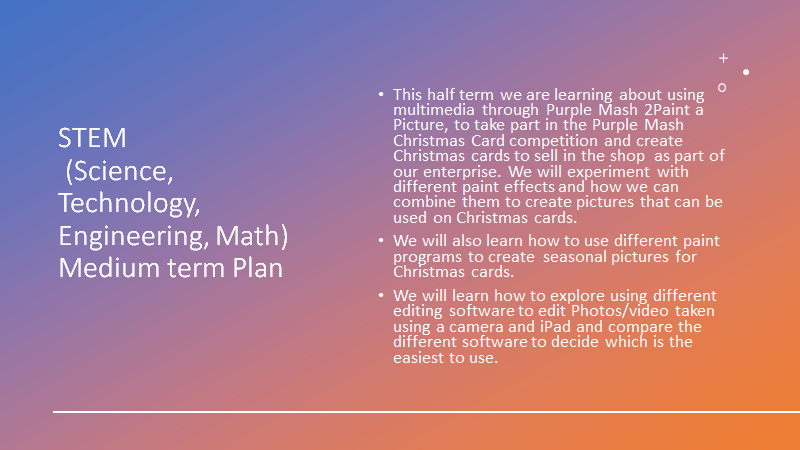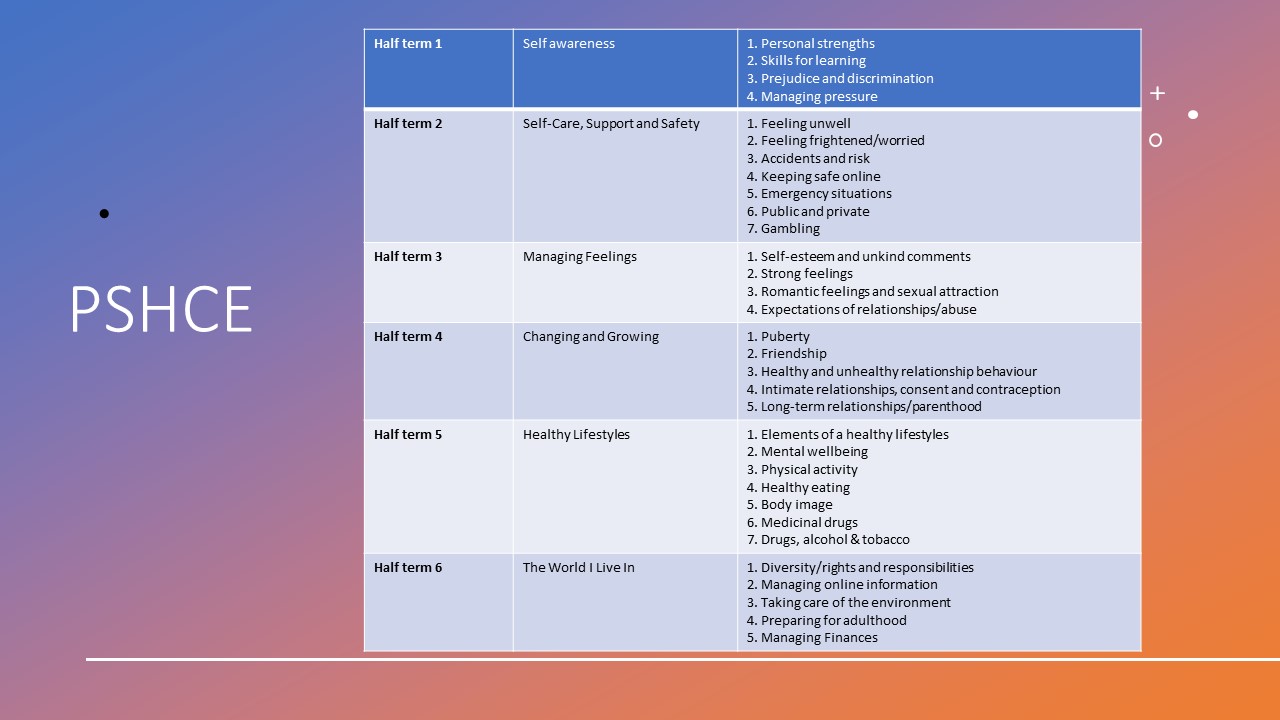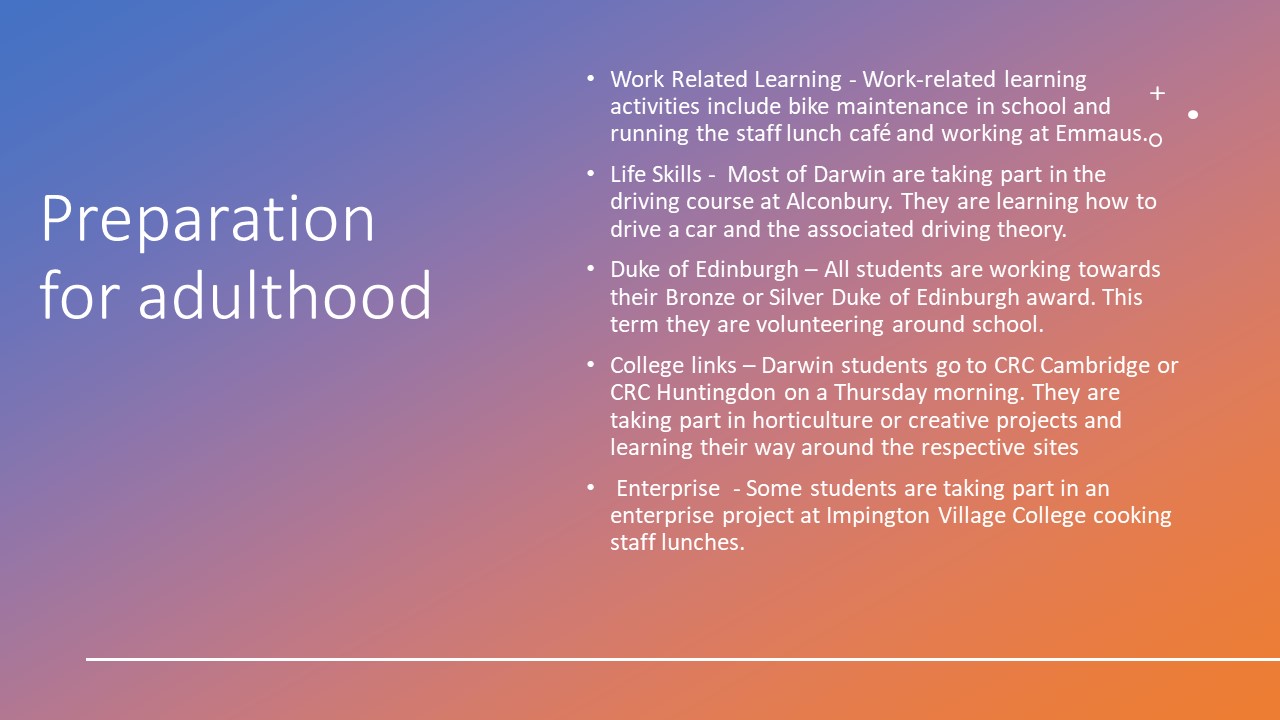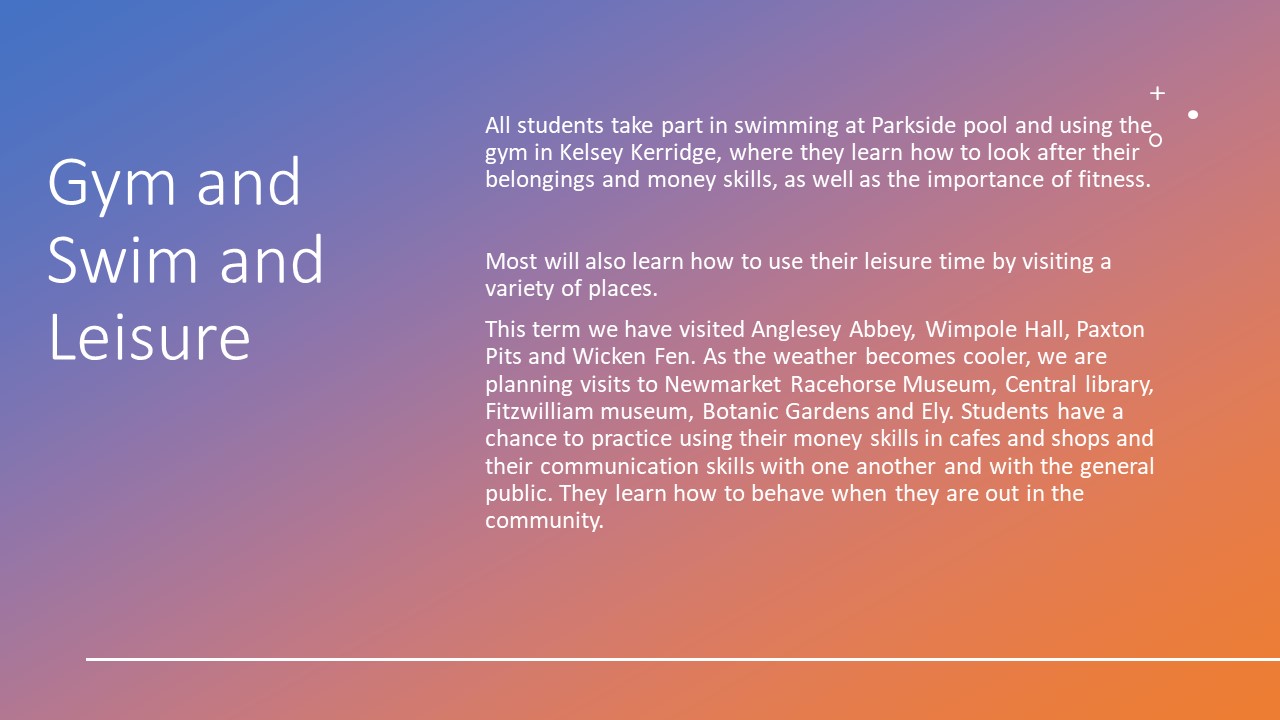 ---
Our timetable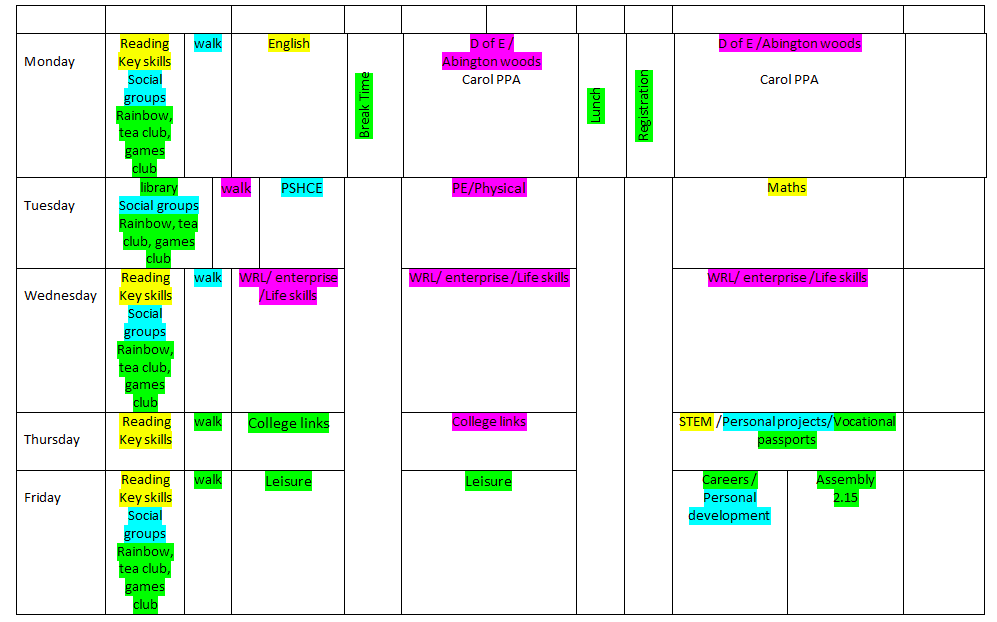 Click here for a downloadable copy.
---
Useful information