Ludlow class
Meet the Team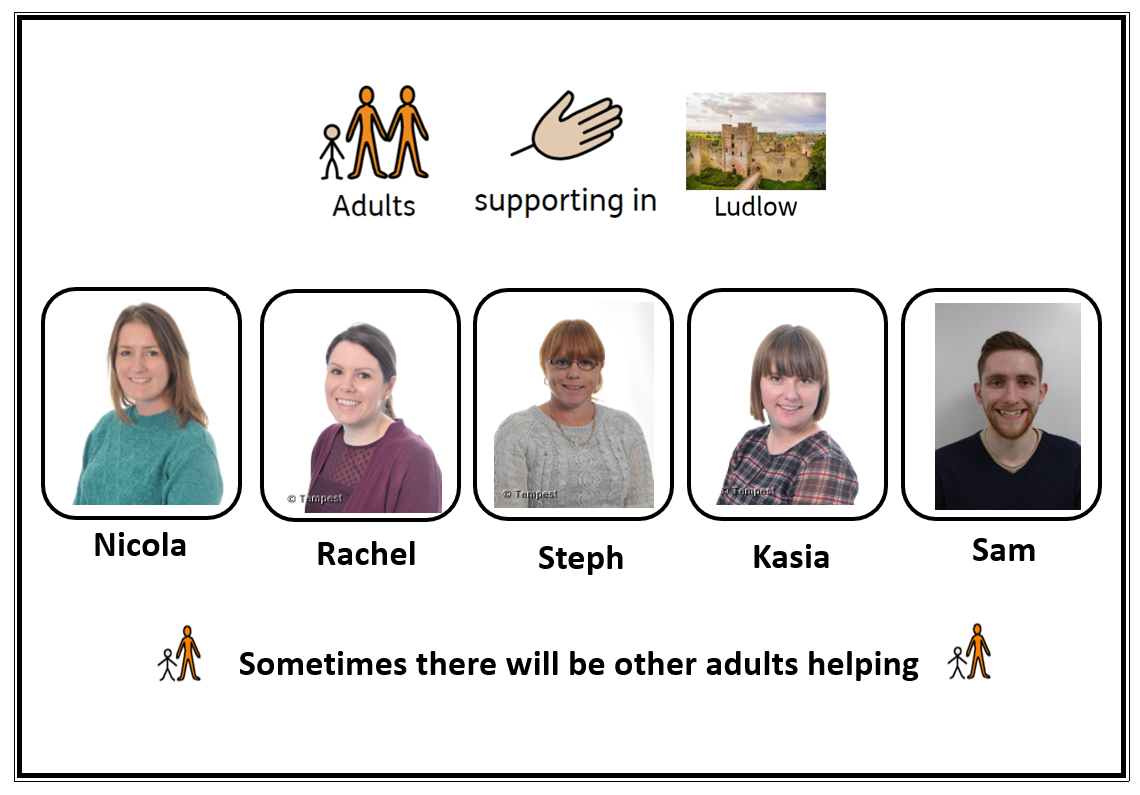 How we learn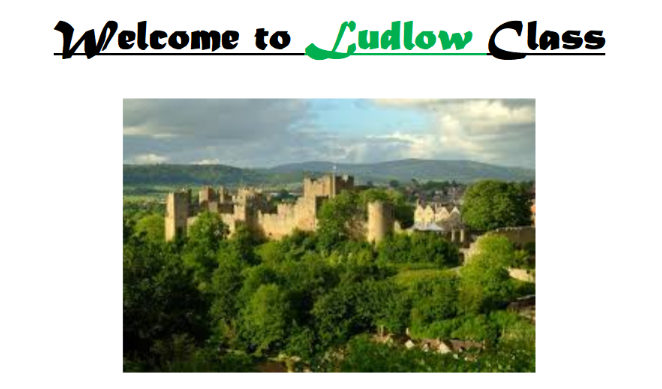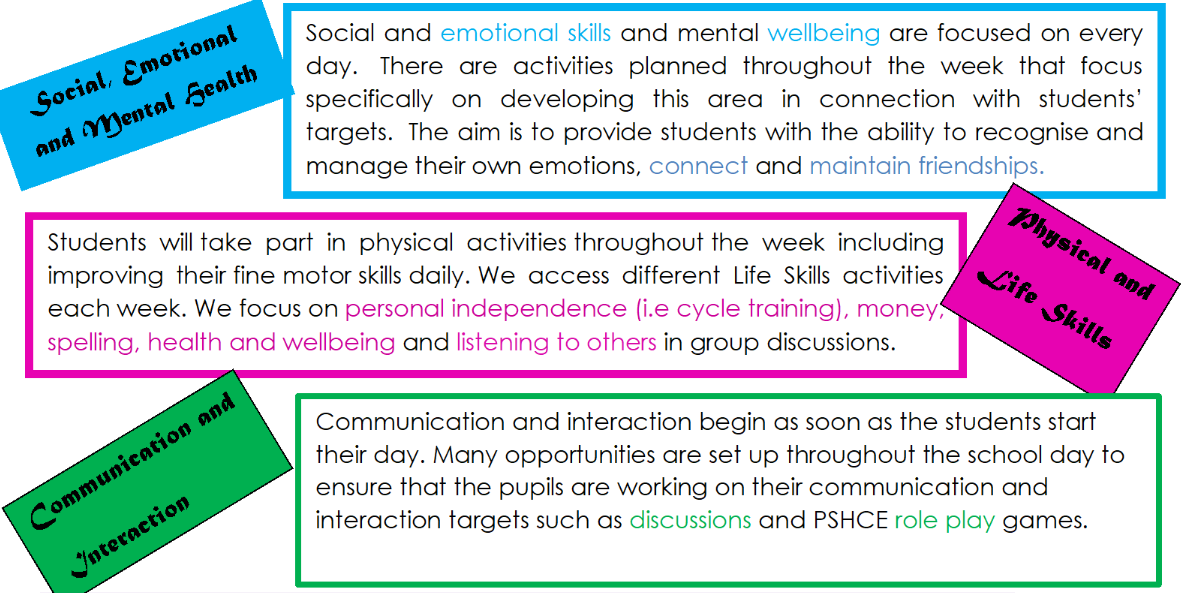 This half term's topics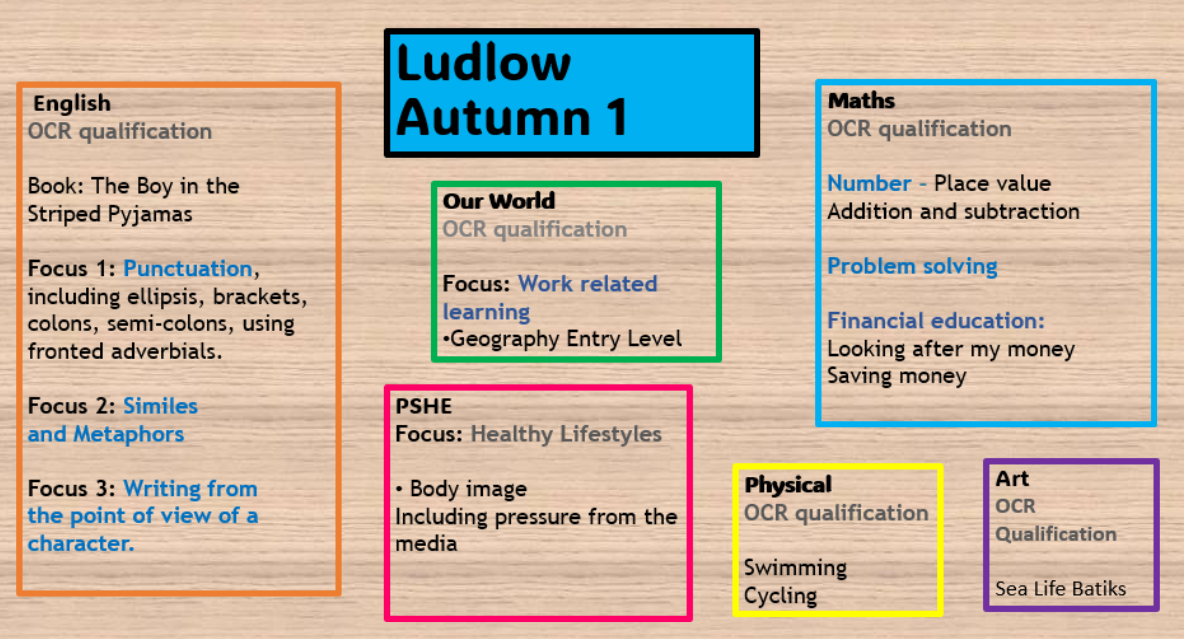 Timetable
Timetables are now available on Arbor. If you would like a hard copy, please ask your young person's class teacher.
Subject

When is this the main focus?

How is this delivered in your class?

Maths

English

Reading

Curriculum Learning:

English

Maths

Cross- Curricular

Key skills session

Maths is taught through whole class teaching and involves the use of manipulatives, games, investigations and individualized worksheets, so pupils can acquire a deep, long-term, secure and adaptable understanding of the subject.

Throughout the school day we link maths to the environment around us and the real world scenarios. The students are also following the OCR framework and will complete activities that are necessary for the examination in year 11.

English is taught through class stories, with a focus on character, set and plot. For writing, we follow OCR assessment framework. Reading is taught through phonics work, guided reading activities and adults regularly modelling reading skills and listening to students read / engage with texts themselves in groups and individually.

We include daily handwriting activities to help with the development of fine motor skills and link English and maths to social and communication skills.

For both English and Maths, we use reading eggs and mathseeds to consolidate learning, boost student's confidence with spelling, help expand their vocabulary, develop their key literacy skills, secure core math and problem solving skills in a fun, personalized, interactive way that keeps children engaged and keen to learn.

In both English and Maths, students are assessed using Castle Rainbow and Gemstones Levels.

Cross- Curricular

Key skills session

Walk and talk

Break Times

Lunch Times

PSHE

Communication and interaction begins as soon as the pupils come into school. The students take part in a morning circuit routine that promotes interaction and teamwork.

Many opportunities are set up throughout the day to ensure that the pupils are working on their communication targets.

Cross- Curricular

Key skills session

PSHE

Walk and talk

Break Times

Lunch Times

Social and emotional skills and mental wellbeing are focused on every day. However, there are activities planned throughout the week that focus specifically on developing this area in connection with students' targets. The aim is to provide students with the ability to recognise emotions in themselves and others and encourage them to play and work together or alongside each other.

Curriculum Learning

Community Learning

Key skills session

Break Times

Lunch Times

Class Routines

Daily routines

Circuits

Gym

Swim

Students take part in physical activities daily that will improve their fine and gross motor skills.

There are daily opportunities for students to practice self-helping skills, be independent and focus on their health and wellbeing.

Physical Activities:

Daily circuits to Alert, organise and relax.

Multigym

Chesterton gym and swim

PE lessons

Cycle training

Walk and talk

Creativity

Curriculum Learning

Creative Carousel

Choir

Cross-Curriculum

Creativity is included in as many areas of the curriculum as possible.

Students are working towards their Entry Level examination following the 4 areas:

Develop, record, refine and present.

Students are supported to work on creative projects through themed lunch clubs, music and art sessions.

Our World

Curriculum Learning:

STEM

Humanities

ICT

Newsround

Community Outings

Students are working towards their Entry Level examination in Humanities. Students also participate in STEM activitie weekly.

They will also explore their world through accessing different areas inside and outside school as well as during community.

Ludlow also watches Newsround daily to ensure they are informed about current events and global issues, develop a broader understanding of the world, encourages critical thinking, and promotes discussions about relevant topics, fostering their cognitive and social development.

Preparation for Adulthood

Daily routines

PSHE

In Ludlow, we promote self-care and personal responsibility through daily routines. We emphasize emotional management, relationship building, and informed decision-making, both informally throughout the day but also during PSHE lessons. Community outings further enhance social interaction and real-world skills, all aimed at equipping students with the confidence and independence essential for a successful transition to adulthood.