School Uniform
The uniform is simple and practical, and we are relying on your support to ensure all pupils are smart, clean and tidy. You can order uniform by visiting: www.yourschooluniform.com
For Lower School (Pupils aged 4 - 11)
Emerald Green Polo Shirt
Emerald Green Cardigan/Sweatshirt
Black Skirt/Trousers/Culottes
Black Shoes
Summer Only
Green Gingham Dress/Tailored Plain Shorts
Key Stage 3 and 4 (age 11 – 16)
Bottle Green Polo Shirt
Bottle Green Cardigan/Sweatshirt
Black Skirt/Trousers/Culottes
Black Shoes
Summer Only
Green Gingham Dress/Tailored Plain Shorts
6th Form
Uniform is not expected however clothing should be smart and show respect to themselves and other students e.g. no low cut tops or controversial logos.
It should not represent a health and safety hazard e.g. no high heeled boots or shoes.
PE
Primary PE T Shirt – Jade Green
Secondary PE T Shirt – Bottle Green
PE Shorts – Shadow Stripe – Navy
Track Suit Blue (optional)
Socks
Training Shoes or Plimsolls
PE bag
Swimming
Swimming Costume
Swimming Hat
Towel
Swimming Bag
Riding
Change of Clothes
Suitable Footwear
For all pupils jewellery should be limited to stud type earrings and an inexpensive watch.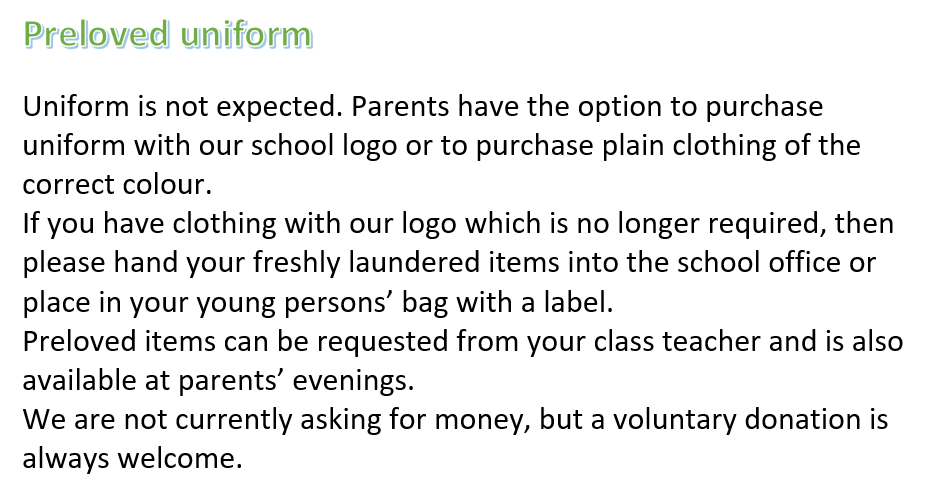 PLEASE ENSURE ALL CLOTHING IS NAMED